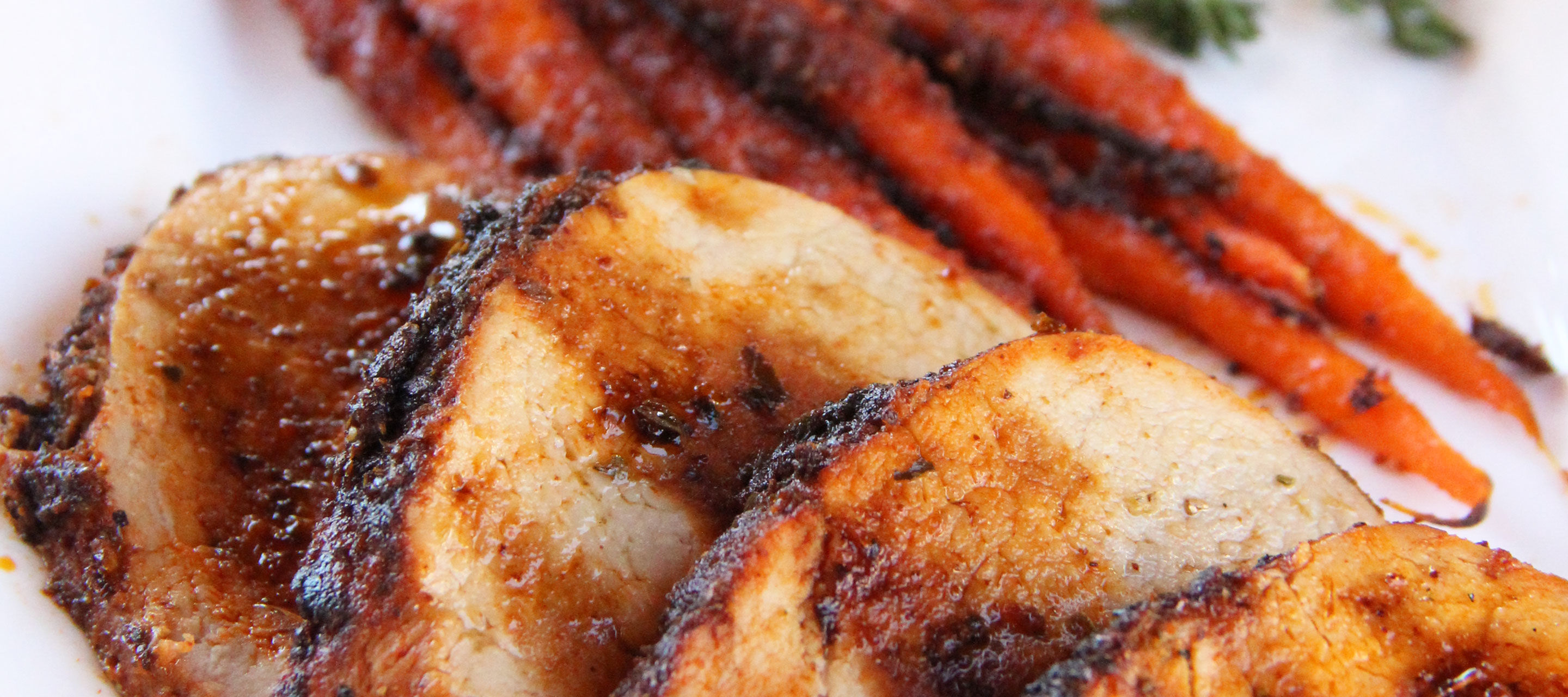 Ingredients
---
Pork Tenderloin
4 Tbsp The Olive Press Robust Master Blend Extra Virgin Olive Oil
2 tsp oregano
2 tsp ground cumin
1 tsp chili powder
1 tsp paprika
Salt and pepper to taste
Roasted Carrots
3 Tbsp The Olive Press Medium Master Blend Extra Virgin Olive Oil
2 lbs small carrots
1 Tbsp sugar
1 tsp mustard powder
1 tsp paprika
1 tsp cumin
1/2 tsp ground coriander
Harissa Dip
1/2 cup greek plain yogurt
1 Tbsp harissa powder
2 tsp thyme

2 tsp lemon juice
Preparation
---
Pork Tenderloin
Preheat oven to 400 degrees F.

Combine oregano, ground cumin, chili powder, paprika, salt and pepper and rub the mixture on the tenderloin.

Add Robust Master Blend Extra Virgin Olive Oil to a skillet over medium heat.

Place the tenderloin in the skillet and brown on all sides (about 5 mins per side).

Remove the tenderloin from the skillet in a casserole dish or baking sheet and cover with foil.

Place in oven for about 20-30 mins or until meat thermometer reads 145 degrees F.

Remove from oven and allow tenderloin to rest 5-10 mins.

Transfer pork to work surface and slice into ½ inch thick rounds.

Top pork with any remaining pan juices.
Roasted Carrots
Boil carrots in salted water for about 5 minutes.

Immediately place carrots in ice water.

Using a paper towel or dish towel, gently rub the skins off of the carrots.

Mix all dry ingredients into a bowl then gently toss until carrots are coated.

In a skillet over medium heat, add Medium Master Blend Extra Virgin Olive Oil and carrots, turning until browned on all sides.
Harissa Dip
Combine all ingredients and allow to chill slightly for 5-10 minutes in refrigerator.