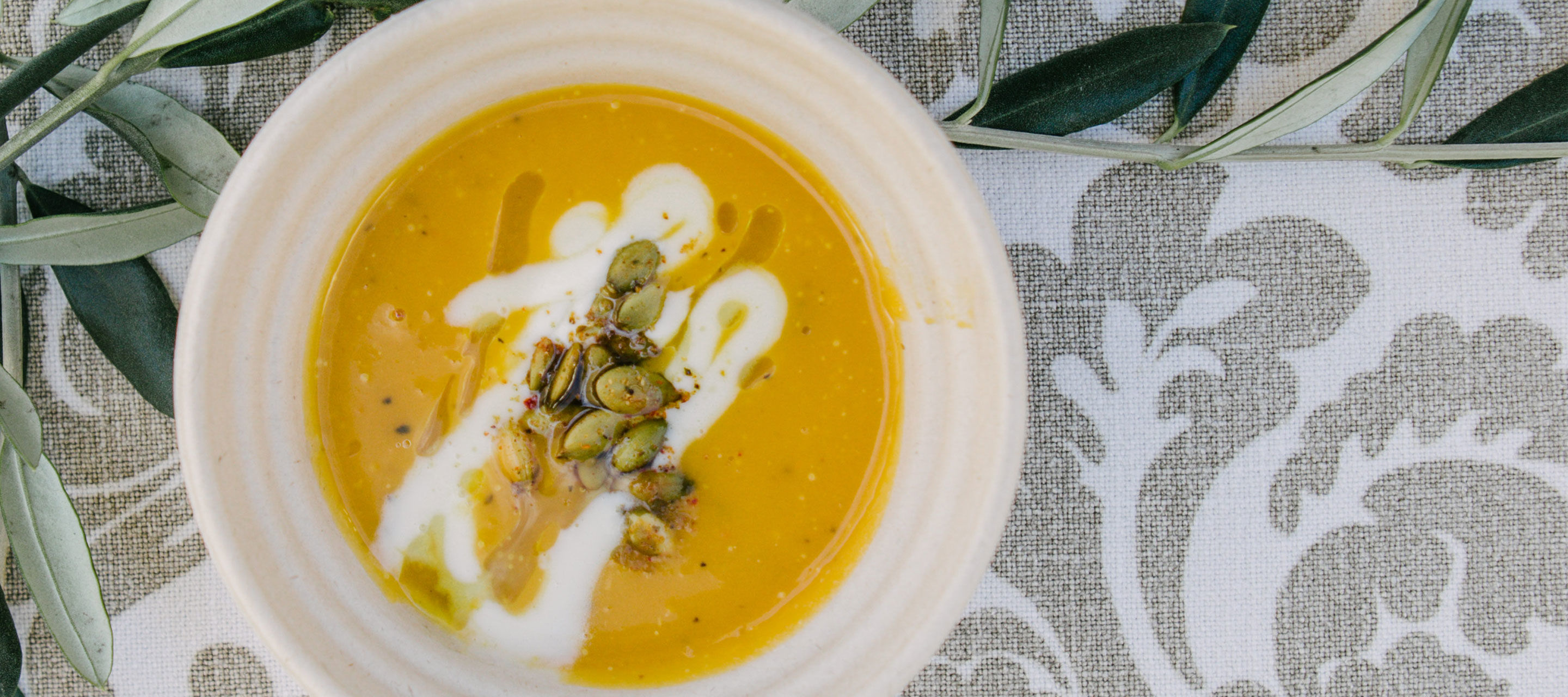 Ingredients
---
3 cups peeled and cubed butternut squash (about 1 small squash)
6 cups peeled and cubed sugar pumpkin (about 1 medium sugar pumpkin)
Pink salt (to taste)
Black pepper (to taste)
2 Tbsp curry powder
2 Tbsp lemon juice
2 tsp The Olive Press Chive Olive Oil
1/2 of a yellow onion, diced
2 carrots, peeled and diced
2 green apples, peeled and diced
1 can coconut cream
4 – 8 cups low sodium vegetable broth, depending on how thin or think you would like your soup
8 oz cream fraiche
The Olive Press Olio Nuovo Extra Virgin Olive Oil
1/4 cup raw pepitas
1/8 tsp olive oil
2 Tbsp The Olive Press Sriracha Spice Blend
2 Tbsp The Olive Press Napa Garlic Spice Blend
Preparation
---
STEP 1
Preheat oven to 375 degrees and line a baking sheet with foil.
STEP 2
Cut pumpkin and butternut squash into quarters and scoop out seeds.
STEP 3
Brush or spray the pumpkin and squash with olive oil and sprinkle with salt and pepper.
STEP 4
Place on the foil lined baking sheet and roast in the oven for approximately 45 minutes or until easily pierced with a knife.
STEP 5
Remove from the oven and cool slightly. Peel off the skin and cut into cubes.
STEP 6
Add 2 teaspoons of chive olive oil to a large pot and heat over medium high heat.
STEP 7
When oil is hot, add in diced onion, carrots and apples and sauté for several minutes until the onion softens.
STEP 8
Add in roasted butternut squash and pumpkin. Stir to combine.
STEP 9
Add in curry powder, lemon juice, salt and pepper and stir together.
STEP 10
Pour in broth and coconut cream, then bring to a boil over medium heat.
STEP 11
Once the soup comes to a boil, purée until smooth.
STEP 12
Add more seasoning if desired.
STEP 13
Top soup with spiced pepitas, a drizzle of Olio Nuovo and cream fraiche if desired.
STEP 14
To make the spiced pepitas: Place a small non-stick skillet over medium heat and add pepitas to skillet and toast until light brown and fragrant. In a small bowl, toss together pepitas, olive oil and spices until coated. Remove from heat and cool.