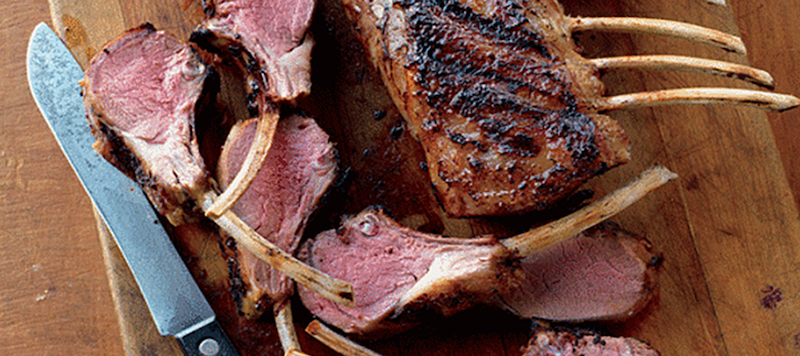 Ingredients
---
⅔ cup apricot preserves
½ cup whole-grain mustard
¼ cup Ascolano Extra Virgin Olive Oil
3 tablespoons finely chopped fresh thyme leaves
6 garlic cloves, minced and pushed through a press
2 racks of lamb, each about 2 pounds, frenched
2 teaspoons Pink Himalayan Sea Salt
1½ teaspoons freshly ground black pepper
Preparation
---
STEP 1
Whisk the glaze ingredients. Transfer 1/3 cup of the glaze to another bowl and set aside to brush on the racks of lamb when they come off the grill. Rub the remaining glaze all over the lamb, spreading more on the meaty side than the bone side. Marinate the lamb at room temperature for 20 to 30 minutes. Season evenly with salt and pepper.
STEP 2
Prepare the grill for direct cooking over medium heat (350° to 450°F).
STEP 3
Grill the lamb, bone side down first, over direct medium heat, with the lid closed, until cooked to your desired doneness, about 20 minutes for medium-rare, turning occasionally and watching closely to avoid flare-ups. Remove from the grill and brush with the reserved glaze. Let rest for about 5 minutes.
STEP 4
Cut the lamb between the bones into individual chops. Serve warm.