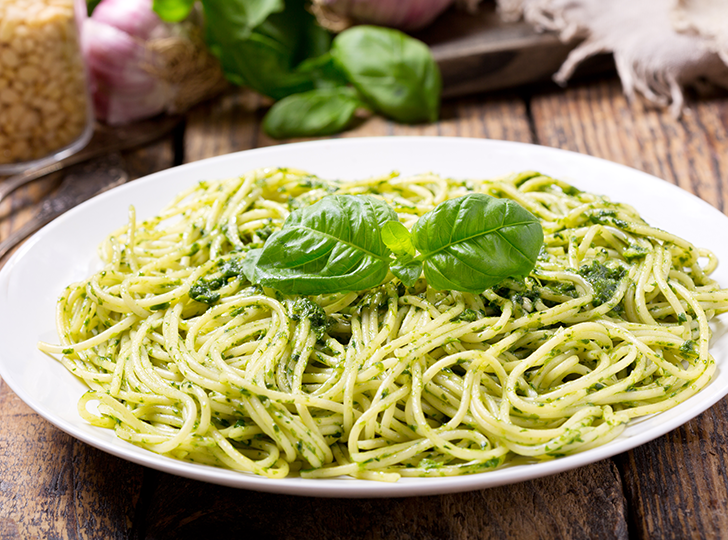 Ingredients
---
1/2 cup Basil Olive Oil
1lb of spaghetti noodles
1 garlic clove, roughly chopped
1/2 cup toasted pine nuts
1 cup fresh basil leaves, washed and destemmed
1/2 cup parmesan cheese, grated
1/2 lemon, juiced
1/2 tsp salt
Fresh ground black pepper
Preparation
---
STEP 1
Cook spaghetti in a large pot according to package directions.
STEP 2
While pasta is cooking, add garlic, pine nuts, and parmesan to a food processor and process until smooth. Add basil and process until finely chopped. While the machine is running, slowly drizzle in Basil Infused Olive Oil.
STEP 3
Season mixture with salt, pepper, and a squeeze of lemon juice. Pulse again until combined.
STEP 4
Drain cooked pasta and reserve 1 cup of the cooking water.
STEP 5
Toss hot pasta with the pesto mixture in a large bowl and add reserved cooking water 1/4 cup at a time until desired consistency.
STEP 6
Season with additional salt and pepper to taste. Drizzle with Basil Olive Oil and Parmesan cheese.
STEP 7
Serve warm and enjoy!