7 min read
Try this intensely flavorful and delicious slow-cooked beef brisket!
TIME: 45 MINS | 3-4 SERVINGS
FEATURING
Bourbon Balsamic Vinegar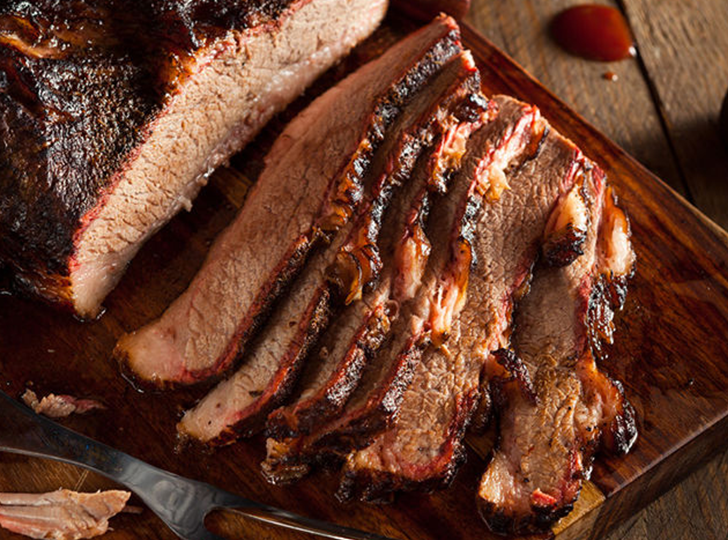 Ingredients
---
1 (4 to 5-pound) beef brisket
Kosher salt
Freshly ground black pepper
3 tablespoons vegetable oil, divided
3 large red onions, thinly sliced
8 cloves garlic, thinly sliced
2 bay leaves
1 1/2 cups beef or chicken broth or stock
1/3 cup The Olive Press Bourbon balsamic vinegar
1 tablespoon red wine vinegar
1/3 cup packed light brown sugar
2 teaspoons onion powder
1 teaspoon garlic powder
12 slices of sourdough bread
16 oz jalapeño jack cheese
¼ cup mayonnaise
Preparation
---
STEP 1
Preheat the oven to 325°F. Season both sides of the brisket with salt and pepper. Heat 2 tablespoons of the oil in a Dutch oven or large sauté pan set over medium-high heat. Add the brisket and cook, turning once, until browned on both sides, 8 to 10 minutes total. If the brisket does not fit all at once, cut it in half and sear it in batches.
STEP 2
Remove the seared brisket from the pot and set aside. Add the remaining 1 tablespoon oil, followed by the onions, garlic, and bay leaves to the pot and cook, stirring often, until the onions soften, and the mixture is fragrant, 5 to 10 minutes.
STEP 3
Meanwhile, whisk together the stock, balsamic vinegar, red wine vinegar, brown sugar, onion powder, garlic powder, and 1 teaspoon kosher salt in a medium bowl until fully combined.
STEP 4
Transfer the onion mixture to the bottom of a large roasting pan and place the seared brisket on top. Pour the balsamic mixture over the top, cover tightly with aluminum foil, and transfer to the oven.
STEP 5
Cook the meat for 2 hours. Remove from the oven, uncover, and carefully flip the meat to the other side. Re-cover and continue cooking until the meat is fork‑tender, 2 to 2 1/2 hours more.
STEP 6
Remove from the oven and transfer the meat to a cutting board; drape loosely with aluminum foil and let rest for 10 to 15 minutes before slicing across the grain. Remove and discard the bay leaves onions and garlic.
STEP 7
Enjoy!